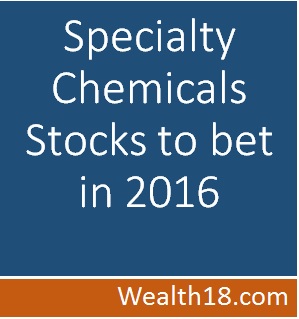 As per analysts, India's specialty chemicals industry could be big theme in 2016-2017.
The specialty chemicals industry is worth $25 billion and the industry has delivered 13% growth over the past five years.
Over the next 12 months, investor can get good returns in the specialty chemicals theme. Here is a list of stocks from various analysts under speciality chemicals theme that investors can look at:
Stock

Target

CMP

Upside

Rationale

SRF

1700

1279

33%

Rapid progress which has been made in the high-margin fluoro-speciality and refrigerant gases will drive value growth. Steady free cash flow from technical textiles will also supplement capacity expansion in fluoro-speciality.

Phillip Capital estimates SRF to deliver revenue and profit CAGRs of 14% and 22% respectively over FY16-FY18. Its specialty chemicalsoperations would be the growth engine in this period with sales and profit CAGR of 24% and 35% respectively.

Aarti Industries

700

521

34%

Aarti is the largest producers of benzene derivatives in India and has emerged as one of the leading manufacturers globally. Its global market share in this segment is 25-40% in various products.

Phillip Capital estimates Aarti to deliver 16 per cent and 21 per cent CAGR respectively in revenues and profit over FY16-18 to Rs 36.2 billion and 3.72 billion respectively in FY18.

Additionally, it believes that company's successful track record in execution of expansion projects over the last five years and its on-going capex can surprise growth positively. 

Vinati Organics

495

379

31%

Vinati Organics (VO) is the most efficiently integrated player will gain from integrated downstream products. The company is a global leader of 2-acrylamido 2-methylpropanesulfonic acid in the world with a capacity of 26,000TPA and ~45% market share.

Phillip Capital estimates Vinati Organics to deliver 16 per cent and 21 per cent revenue and profit CAGRs over FY16-FY18 to touch Rs 8.21 billion and 11.45 billion in FY18. To further its growth plans, VO is undertaking capital expenditure of Rs 2bn over FY16-17 for backward integration and introduction of new downstream products. 

Camlin Fine Sciences

135

90

50%

The company is one of the few global leaders of food-grade anti-oxidants will gain from forward-integrated antioxidant blends and vanillin manufacturing. It is an established global leader of food-grade synthetic antioxidants.

Phillip Capital estimates Camlin Fine (CFIL) to deliver revenue and profit CAGR of 15 per cent and 22 per cent over FY16-FY18. Currently, the company trades at 11x FY18 EPS and 7x FY18E EV/EBITDA.

Considering CFIL's forward move into high-margin antioxidant blends and vanillin and its strong operating/financial efficiency (with 30 per cent ROE, and 26 per cent ROCE).

Atul

1650

1512

9%

The company has the most diversified business model but seems struggling for growth due to lack of any major expansion plan and the adverse impact of economic slowdown on colours and agro-businesses.

Atul trades at 13x FY18 EPS and 7x FY18 EV/EBITDA. "While we consider Atul's strong historical track record of steady growth and cash generation positive, its visible muted growth – both on revenues and profits – make us pessimistic," Phillip Capital said in a report. 

Bodal Chemicals

 

74

 

It is India's largest manufacture of dye intermediates and one of largest manufacture of dye stuff. Industry structure has tilted in favour of large Indian players due to many plants in China which are set down due to environmental issues and this favours industry structure.

"Bodal's profitability has improved significantly in last two years. It has repaid all its long-term debt and has entered into strong free cash flow generation period," Vipul Shah, Head of Research, Monarch Networth said.

"It is trading at significant discount to its peer group companies from speciality textile chemical companies and because it is available at a huge discount to the peer group, we like the idea," he said.
Other Stock Ideas for this year from leading experts
Here are top 10 stocks for new year
https://wealth18.com/here-are-top-10-stocks-for-new-year/
6 Specialty chemicals stocks to bet in 2016
https://wealth18.com/6-specialty-chemicals-stocks-to-bet-in-2016/
10 wealth creating ideas from leading experts for FY17
https://wealth18.com/10-wealth-creating-ideas-from-leading-experts-for-fy17/