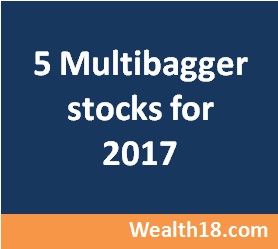 Finding stocks that can deliver multibagger returns is not easy where there are 5000+ companies listed. According to the Rule of 72, a stock that delivers around 24 per cent return annually can double your wealth in three years.
Over the past five years, stocks like Ajanta Pharma (up 4,294 %), Symphony (965 %), Eicher Motors (1,350 %), Bajaj Finance= (1,170 %) and Avanti Feeds (1,830%) have multiplied investors' wealth several folds. Now, based on various brokerage recommendations, here is a list of five stocks from several sectors that have the potential to generate multi-fold returns over time.
 

CMP




(24-Dec-2016)

52 wk low

52 wk high

Other Recommendaion

TVS Motor

372

256

418

 

Voltas

315

211

406

Axis – 320




ICICI Sec – 355

Multi Commodity Exchange

1253

726

1420

HDFC Sec – 1335

Aditya Birla Fashion & Retail

132

124

263

 

Kwality

118

78

160

KR Choksey – 263
See more details & rationale provided by the analysts.
1. TVS Motor | Recommended By Anand Rathi Financial Services
With the Seventh Pay Commission payout and rising rural income, the two-wheeler company will see more demand from the small town and TVS Motor can see steady growth in coming years. 
2.  Voltas | Recommended By Anand Rathi Financial Services
Voltas is one of the strongest stocks in the fast moving engineering goods sector due to its diversified product portfolio. "With the rising population, income, improving life style the stock is set to give multi-fold return to investors in the coming years
3. Multi Commodity Exchange | Recommended by Rivergate Capital Partners
With recent demonetisation, the market will see a lot of unorganised trade from the commodity market shifting to the organised trade and that will benefit MCX. The exchange was recently granted permission to launch options trading, which is a huge area. Big value unlocking can happen if one can pick the MCX stock at these levels. It can be a multibagger kind of story in two to three years.
4. Aditya Birla Fashion & Retail | Recommended By Edelweiss Securities
The company was formed by merging Madura and Pantaloons Fashion & Retail (Pantaloons) and is today India's largest branded apparels player with a turnover of Rs 6,060 crore in FY16. The company has the ability to surpass industry growth anchored by a large base. Improving financial metrics such as robust free cash flow generation, 39 per cent Ebitda growth CAGR over FY16-18E and 20 per cent RoCE by FY19E (4 per cent currently) — are expected to sustain for many years, rendering the stock into a potential multibagger.
5. Kwality | Recommended By Nirmal Bang Securities
If you take away the problem that Kwality is slightly overleveraged as far as the balance sheet goes, because it is expanding very fast and it is going in into various products, this company can turn out to be a multibagger.