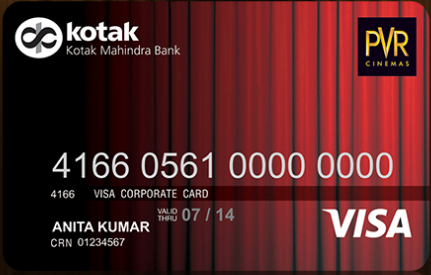 Kotak Bank – PVR Gold credit card offers additional reward points on your credit card spend.
Kotak PVR Gold Credit Card Benefits
Joining Benefits : Apply and get 1 PVR voucher code on your 1st swipe (T&C)
Benefits

PVR rewards

Get 1 free PVR movie ticket* every month when you spend Rs. 10000/-# and above in a monthly billing cycle. OR
Get 2 free PVR movie tickets* every month when you spend Rs. 15000/-# and above in a monthly billing cycle.
Shop Anywhere in India using your PVR Kotak Credit Card to get your free PVR movie tickets Available all year round
The Coupon Codes sent for the free PVR Movie Ticket(s) can be used for any day and any show across all cinemas except Director´s Cut and PVR IMAX and for all booking classes except Gold Class and Europa at the PVR Website. The Coupon Code has a validity of 2 months. Maximum free tickets that can be availed in a monthly billing cycle are 2 tickets for PVR Kotak Platinum Card holders.
Milestone Benefits: See above

Lounge Access (Domestic): No Benefit on this card

Movie Tickets:  2 Free tickets every month on milestone spend

Restaurant Offers:  N/A

Railway Surcharge waiver:  N/A
Fuel:  N/A
Rewards Collection
There are no reward points for this credit card. Once you hit monthly spend, you will get 2 PVR tickets free every month.
Rewards Redemption
Log on to www.pvrcinemas.com.
Select the cinema (except Director's Cut / Imax / P[XL] / 4DX / Playhouse / Opulent), movie, show, booking class (except Gold and Europa) and seats of your choice.
On the payment page click on MCOUPON tab below the Credit/Debit Card payment options.
Enter the last 5 digits of your registered mobile number and last 4 digits of your Kotak PVR Credit Card.
Enter the Coupons Code & click on Make Payment tab.
*w.e.f. 10-Jan-2017, discount that can be availed per Coupon Code per tickets is capped at Rs. 400. In case the price of the ticket is more than Rs. 400, the difference amount shall be paid by the cardholder using his Kotak PVR Credit Card which is being used to avail the offer.
Pay the balance booking/convenience fees and book your free ticket.ow to claim PVR tickets: Please follow the below steps to use your Coupon Code and get your Free PVR Movie Ticket(s).

In a year, you can get 24 PVR tickets (worth upto Rs 9600). Assuming the annual fees (499), the benefit is worth 9100 on annual spend of Rs 1.8 lakhs (so benefit for 5%)
Kotak PVR Gold Credit Card Fees
Joining fees: Rs 0

Annual Fee: Rs 499  
How to Apply – You can apply online at Kotak Bank website 
Primary Credit Card holder should be in the age bracket of 21 to 65 years. Add-on Card holder should be 18 years and above

Location – Ahmedabad, Bangalore, Chennai, Delhi (including Gurgaon and Noida), Hyderabad, Kolkata, Mumbai, Navi Mumbai and Pune

Income – 3 Lakhs and above per annum
This key benefit of this card is that you will get 2 FREE PVR tickets every month on spend of Rs 15000 monthly (worth 5% reward), so it is one of the best cards from rewards value perspective.