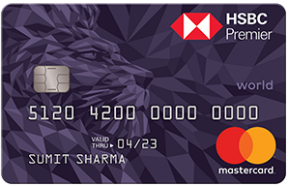 HSBC Premier Mastercard Card offer valuable additional reward points on online shopping, dining and telecom.
HSBC Premier Mastercard Credit Card Benefits
Joining Benefits : 

Get Rs 2,000 Cleartrip voucher (Domestic Flights) &
Rs 250 Swiggy voucher on your first successful transaction of any amount within 30 days of credit card issuance.

Benefits

Reward points as per details in Reward section below.
Air Miles conversion on JetPrivilege, Singapore Airlines, BA, Taj Inner Circle.
Milestone Benefits: N/A
Lounge Access (International):

Primary cardholder you also get membership to 'LoungeKey' that gives access to over 850 airport lounges overseas. 2 complimentary lounge access in a year.

In addition to LoungeKey membership, HSBC Premier Mastercard® credit card offers customers Mastercard® lounge access in the listed Domestic and International Terminals in India. Only one entry per cardholder permitted. A maximum of 6 (six) complimentary lounge access per cardholder per quarter permitted. See details

Golf :  Complimentary one year membership to Golf Pass, giving you discounted green fee and access to select premium golf courses in India. You can avail of 2 complimentary games per month, up to a maximum of 5 games per year at the below listed golf courses (without paying green fees).
Movie Tickets:  

50% cash back at PVR Cinemas on purchase of movie tickets (Maximum cashback of ₹500 per month)
BookMyShow vouchers worth ₹1000 per month on total monthly spends of ₹75,000 or more (Limited to vouchers worth ₹6000 per calendar year)
Restaurant Offers: Up to a 15% discount at over 1,000 restaurants across major cities. See the list of participating vendors at 
Railway Surcharge waiver: N/A
Fuel:  

Fuel surcharge waiver (1%) at any fuel pump across India for transactions between INR400 and INR4,000 .

International Spend: 

Cashback of 1.5% (limited to ₹10,000 per calendar year) on international spends. The cashback will be applicable on completion of international spends of ₹3 Lacs and above in a calendar year and will be credited on a quarterly basis

Other Offers

Other Partner Offers on all HSBC Credit cards. See latest offers
Special Offers for HSBC Premier Customers on Travel, Liesure, Dining., Shopping. Health & Beauty . See details
Rewards Collection
2 Reward Points for every ₹100 spent on the card.
Rewards Redemption
HSBC Premier Mastercard Credit Card Fees
Joining fees: Rs 0

Annual Fee: Rs 0
How to Apply – You can apply online at HSBC website 
Eligibility:
Maintain a quarterly Total Relationship Balance (TRB) of ₹4,000,000 (Rupees Forty Lakh only); OR
Have a mortgage relationship with disbursal of ₹11,500,000 (Rupees One Crore Fifteen lakh only) or more, with HSBC India; OR
Hold a corporate salary account under the HSBC Corporate Employee Programme (CEP) in India with a net monthly salary credit of ₹300,000 (Rupees Three Lakh only) or more into the account
HSBC Premier Mastercard  credit card is free credit card that offers lounge benefits, golf benefits, movie discounts and cashback on international spend but the card is only available if you have exisitng HSBC relationship and meet the criteria.