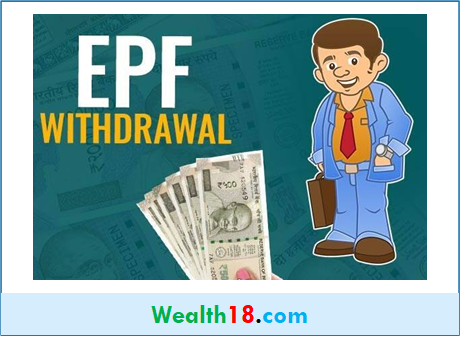 To help employees in this COVID-19 crisis, Govt has relaxed the rules for PF withdrawal. EPFO subscribers can withdraw 75% of their savings or up to a maximum of 3 months' basic pay and dearness allowance from their PF account – whichever is lower.
In general circumstances, the EPFO allows account holders to take "non-refundable advance" or withdraw for specified purposes only such as a medical emergency, marriage, higher education or purchase of a house.
No certificate or documents are to be submitted by a member or his/her employer for availing the benefit.
If you intend to withdraw money from your PF, then you can do it through:
Online: Like claim for all other types of advances, the claim for this advance also can be filed online if your UAN is validated with Aadhaar and KYC of Bank account and a Mobile number is seeded with UAN. Instructions for filing online advance claim is provided on the home page of website- www.epfindia.gov.in, under the tab "COVID-19" on top right hand corner.
The process is as given below:
Login to Member Interface of Unified Portal by clicking here

Go to Online Services>>Claim (Form-31,19,10C & 10D)

Enter last 4 digits of your Bank Account and verify

Click on "Proceed for Online Claim"

Select PF Advance (Form 31) from the drop down

Select purpose as "Outbreak of pandemic (COVID-19)" from the drop down

Enter amount required and Upload scanned copy of cheque and enter your address

Click on "Get Aadhaar OTP"

Enter the OTP received on Aadhaar linked mobile.

Claim is submitted
Mobile: You can also submit the claim through the mobile phone
– you can either login to the member interface by clicking here and following steps (a) to (j) as given above to file claim OR
App: Through UMANG (Unified Mobile Application for New-age Governance) Mobile APP Home> EPFO> Employee Centric Services> Raise Claim> Login with your UAN and OTP received on your mobile number registered with UAN to file claim