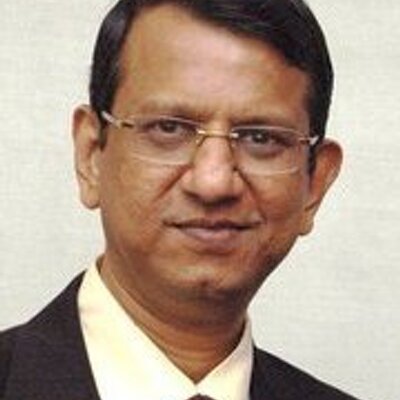 S P Tulsian is a renowned market analyst. He is a commerce and law graduate and holds professional qualifications of Chartered Accountancy and Company Secretary. His fundamental analysis of stocks is great.
Here are some of his views on various stocks and industry:
13-Sep-2017
Better to buy ICICI Prudential at Rs 432 instead of making application in SBI Life  (because if you apply the same 4.55x embedded value presuming that SBI Life will list at maybe Rs 750, then you have a good scope of ICICI Prudential even rising to a level of Rs 505 — at exactly at 4.55x)

Future Enterprise, Future Consumer

Today's call is Grauer & Weil. –  Growel 101 mall at Kandivali West (7.5 lakh sq ft) – recommended at Rs 39, now at Rs 53, can go upto Rs Rs 59. – In 2011, SP Tulsian said that it can go in 3 digits.
12-Sep-2017
Selected Pharma Stocks:  Aurobindo Pharma, Glenmark Pharma and Divis Lab

Exide – Neutral to Positive view

Adani Transmission and Adani Enterprises

Swelect Energy Systems – solar / renewable space

Inox , Suzlon (Negative to neutral view) 

PTC India and PTC India Financial Services

Mahanagar Gas, GSPL, IGL
| | | | | | |
| --- | --- | --- | --- | --- | --- |
| Date | Stock |   | Price (20-Apr-2017) | CMP | Returns |
| 20-Apr-17 | Banco India | BANCOINDIA | 225.2 |   |   |
| 20-Apr-17 | Minda Corporation | MINDACORP | 120.3 |   |   |
| 20-Apr-17 | Magna Electro Castings |   | 183 |   |   |
| 20-Apr-17 | Wabco | WABCOINDIA | 6177 |   |   |
| 20-Apr-17 | ZF Steering |   | 1335 |   |   |
| 20-Apr-17 | Rico Auto | RICOAUTO | 62.3 |   |   |
| 20-Apr-17 | Zee Entertainment | ZEEL | 532.5 |   |   |
| 20-Apr-17 | Future Retail | FRETAIL | 307.5 |   |   |
| 20-Apr-17 | Hindustan Zinc | HINDZINC | 284.85 |   |   |
| 19-Apr-17 | Nalco | NATIONALUM | 67.75 |   |   |
| 19-Apr-17 | Mahindra & Mahindra | M&M | 1270 |   |   |
| 19-Apr-17 | Escorts | ESCORTS | 546.95 |   |   |
| 19-Apr-17 | Ujjivan | UJJIVAN | 402.55 |   |   |
| 19-Apr-17 | Bharat Financial | BHARATFIN | 756 |   |   |
| 12-Apr-17 | CG Power | CGPOWER | 80 |   |   |
| 12-Apr-17 | GE T&D | GET&D | 339.45 |   |   |
| 12-Apr-17 | Transformers & Rectifiers | TRIL | 428.05 |   |   |
| 12-Apr-17 | Voltamp transformers | VOLTAMP | 1235 |   |   |
| 12-Apr-17 | PFC | PFC | 155.7 |   |   |
| 12-Apr-17 | REC | RECLTD | 200.45 |   |   |
| 17-Apr-17 | DLF | DLF | 171.85 |   |   |
| 17-Apr-17 | Indiabulls real estate | IBREALEST | 140 |   |   |
| 17-Apr-17 | Prestige Estates | PRESTIGE | 242.65 |   |   |
| 17-Apr-17 | Anant Raj | ANANTRAJ | 60.7 |   |   |
| 17-Apr-17 | marathon Nextgen realty | MARATHON | 342 |   |   |
| 17-Apr-17 | Century Textiles | CENTEXT | 6.5 |   |   |
| 13-Apr-17 | CG Power | CGPOWER | 80 |   |   |
| 13-Apr-17 | Bharat bijlee | BBL | 1018 |   |   |
| 13-Apr-17 | GE T&D | GET&D | 339.45 |   |   |
| 13-Apr-17 | Voltamp transformers | VOLTAMP | 1235 |   |   |
| 13-Apr-17 | Shilchar technologies |   | 450 |   |   |
| 13-Apr-17 | Transformers & Rectifiers | TRIL | 428.05 |   |   |
7-Nov-2016
Prefer LIC Housing as compared to PNB Housing
Review Chemical companies every qurter – Alshar Chemical, Bhageria etc
Crompton greaves – positive view
01-Nov-2016
MOIL  (may give 25-30% return)
NMDC (may give 25-30% return)
Sarda Energy
Godavari Power
Prakash Industries
Sunflag Iron
Hindustan Zinc
Aurobindo Pharma
Glenmark Pharma
Bliss GVS
30-Oct-2016
Zee Media (can give 50-100% return in 1 year)
Century Textile (can given 50-60% return in 1 year)
Sarda Energy (can give 50% return in 1 year)
Donear Industries (can give 50% return in 1 year)
28-Oct-2016
Jayant Agro
Rajratan Global
Kingfa Science
In Oct 2016, he has given positive views in following stocks

JSW steel
RBL Bank
Kajaria Ceramics
M&M
Apollo hospitals
Ricoh Auto
Talbros Automotive
Allcargo
Gati
Shreyas Shipping
Oricon Enterprises
Bajaj Finance
Ujjivan
Muthoot
Manappuram
DHFL
Adani Ports
Trigyn Technologies
Hexaware
Orient Paper
Kesoram
Infosys
Tube Investments
Sarda Energy
Prakash Industries
Sunflag Iron
Advanced Enzyme
Kotak Mahindra
Lakshmi Vilas
RBL
Subros
Automotive Axles
Magna Electro Casting
Ashok Leyland
Sagar Cement
Deccan Cement
NCL Industries
Keerthi Industries
Kakatiya Cements
Bhageria Industries
Bodal Chemicals
Dewan Housing
Ujjivan
Equitas
Will be updating more soon
If you have any queries related to this article or any other personal finance query ( Investment, Taxation etc), please comment below
http://wealth18.com/

8,755 views